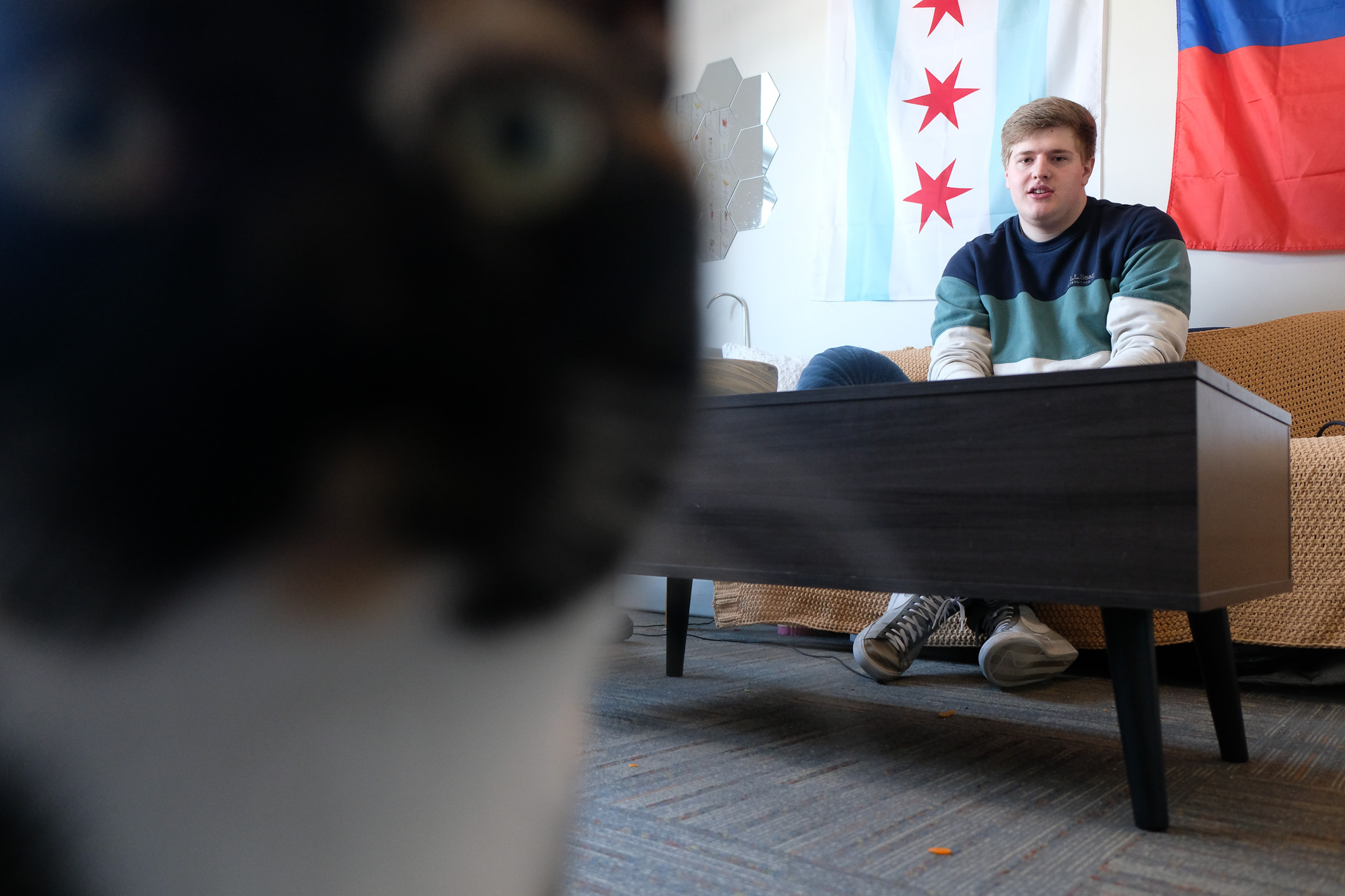 It was love at first sight when Miles Warshauer '25 saw the kitten he would later name Dormcat in a Chicago shelter. Dormcat is a small tortoiseshell cat, just like the one he left back home. DC is an approved emotional support animal (ESA) at Macalester and lives with Warshauer and his roommate in their sunny Kirk double.
"Macalester was a big adjustment," he said. "I had some problems with anxiety, which is why DC is here now."
The name 'Dormcat' (DC for short, or 'deece' when Warshauer wants her attention) was chosen via a vote among his friends, rank choice of course.
"Next year, she'll be Duplexcat because we're moving off campus."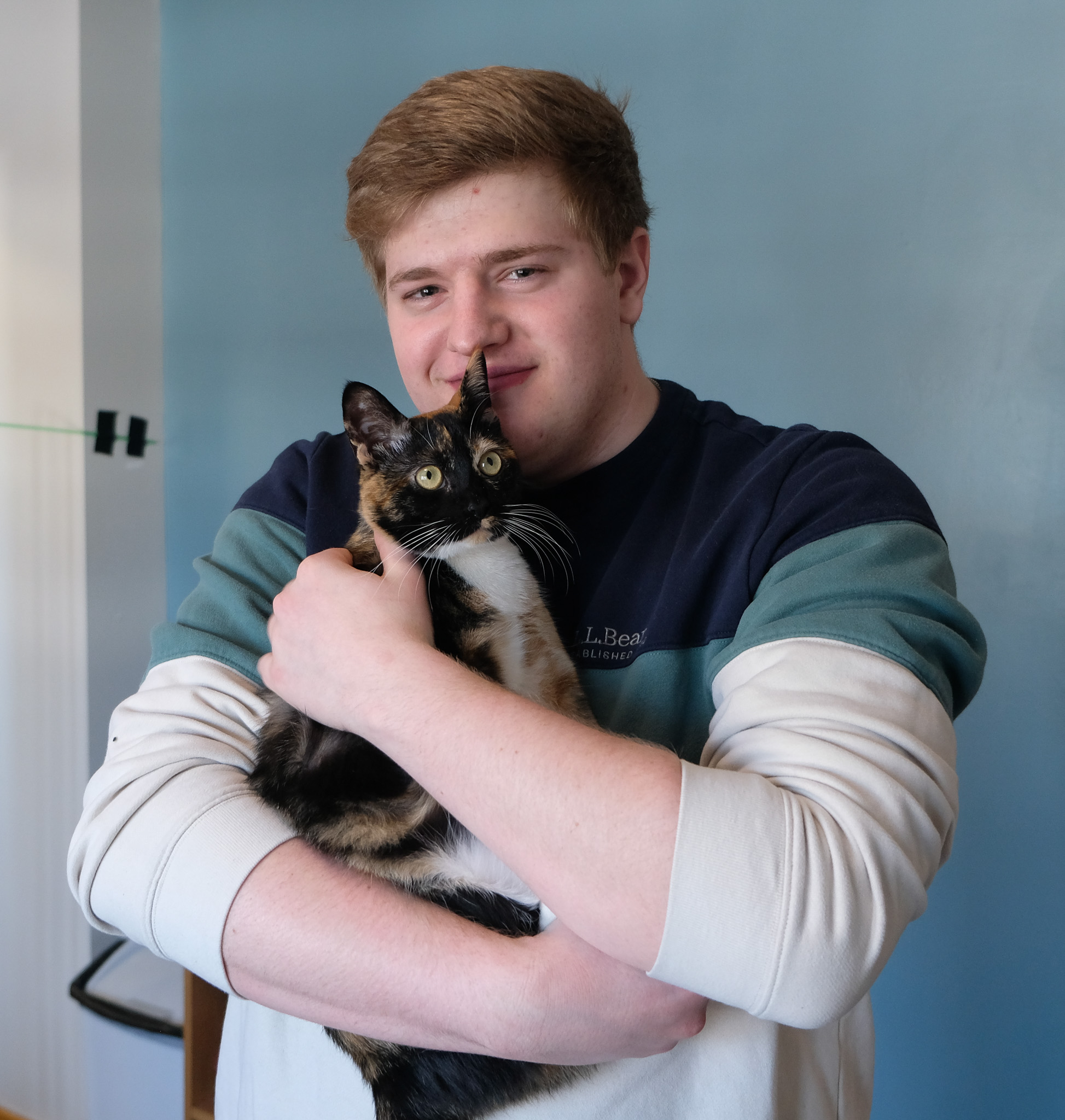 His quest to bring a cat to campus began in the second semester of his sophomore year. Warshauer worked with Disability Services, a process he said was made easier by the fact that he already had a relationship with them through his care team, to get DC approved to bring to campus. He said bringing her to campus was just treated like another accommodation in his plan, plus some veterinary forms.
"There are a lot of people who, especially in the fall semester, were so sure that she wasn't above board and wasn't supposed to be here," Warshauer said. "No, I've done the paperwork, guys."
She is still in the playful, curious kitten years of her life and cat toys can be found scattered around her Kirk double playground.
"She's very personable and amicable and always there to be sweet when I need her."
During the fall, Warshauer would put her in a cat harness and take her on walks around campus. Inevitably, she came upon one of the famed black-coated squirrels on campus.
"She was about to go after one of the black squirrels," he said. "I was like 'no DC this is a PR nightmare!'"
Warshauer runs an Instagram account, @dcdormcat, which has a few hundred followers. He posts photos from walks and updates about DC.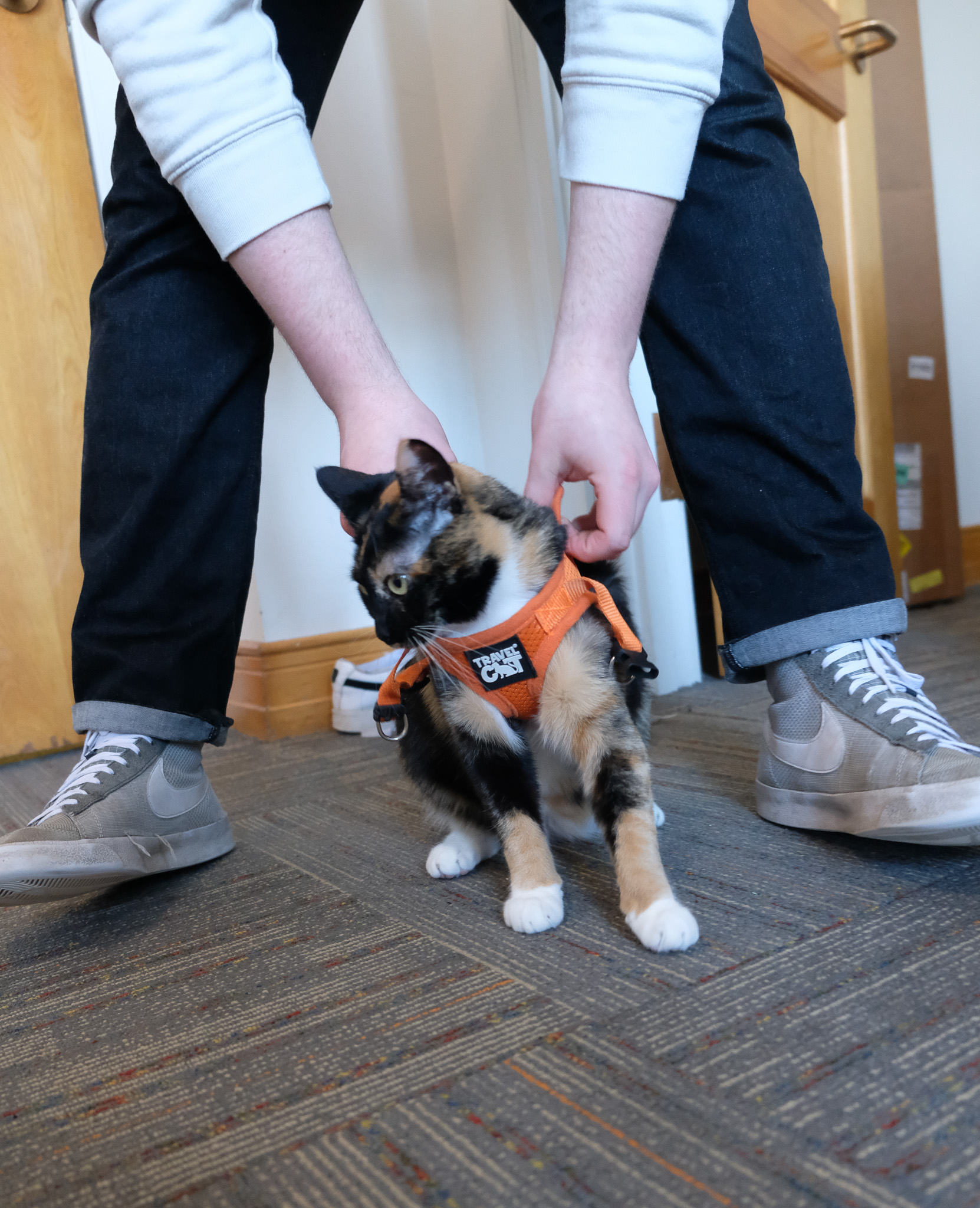 She has a great reputation around Kirk and is adored by Warshauer's roommate, Charles Batsaikhan '25.
"As soon as he walks in, he'll just pick her up and say 'How's it going DC?'" Warshauer said.
He said DC receives visits from friends and hall-mates who enjoy her infectious and goofy personality.
"One of our friends would come over multiple times a week, first semester, just to see DC. She'd just show up and say, 'I'm here to see the cat,'" he said.
While Warshauer and his roommate are in class, DC is perched on her hammock by the bay window for most of the day, watching the comings and goings of busy Snelling Avenue. For a while, a bird feeder also kept her entertained.
In searching for off-campus housing, he said that finding a house that could accommodate four people and would take a cat was a bit challenging. Warshauer said he will have to pay pet rent.
"Many people said 'no pets' so a lot of places were out of the question."
But, it's worth it to Warshauer.
"DC does really well at fighting off the monotony of my weeks. Cats are very chaotic and sometimes you need that chaos," he said.